photo courtesy of Pinterest.com
Pinterest took off in popularity among housewives that were aching to share ideas.  They would "pin" unique ideas, crafts, and other ways to keep their homes neat and tidy… ok, I'm generalizing immensely here, there are many other people who use Pinterest on a regular basis, some of who got in when it was first started, and are anything but a housewife looking to share craft ideas.  The point is that Pinterest has exploded in popularity because it solved a problem for a certain niche.  While Facebook and Twitter have helped to solve their areas, Pinterest fills in the gaps that those other two major social media tools do not.
Pinning is basically bookmarking an idea or a page on a website.  However, instead of just bookmarking it in your browser, and subsequently forgetting all about it, using Pinterest can help you keep your collection of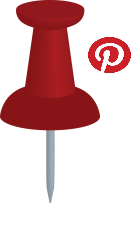 ideas centrally located (and thus accessible from any computer).  But even more than that, other people can see the ideas and pages that you have pinned.  If they like them, they will re-pin them to their page.  Now this represents a unique opportunity to use Pinterest to boost your business.
Topics on Pinterest range from gardening, to technology, to psychology.  There really are no limits.  So regardless of what industry your business falls into, there are ways to maximize it through this outlet.  You see, social media is an excellent tool to get your name out there and keep your name in front of people.  However, these users, and potential clients, do not just want to see advertisements all the time.  They want to feel involved and connected.  In order to help make your customers and clients feel like they have a connection to your business, you need to pin interesting and worthwhile topics.
Strategic pinning will help you in multiple ways, but only if you do it correctly.  Just like when you are tweeting, you do not want any random thing to show up on your business Pinterest account.  Instead, use Pinterest to show that you are an authority in your industry.  Use it to show tips and tricks that you have found online, or better yet, create content on your website and then pin your page to show that you are the expert.  For example, let's say your business is a local brewery.  Using your website you can talk about
various styles of beer and how people would want to drink them; what they should be looking for and tasting in that beer.  Using Pinterest you can spread the words essentially saying, "Hey, we make beer, and we know what we are talking about."  Pinterest users will see your post and realize you do more than just make beer, but you know the science behind it.  As an authority on the subject, you will see more traffic come to your business.
With more people coming in, you will want other Pinterest users to know how many people have stopped by.  So now is a good time to make your official Pinterest page, one that allows people to use place pins showing that they were there.  By using places and pinning strategically, you will increase traffic to your website, increase traffic to your store, and create a brand that money can't buy.  People will know you from your online presence, and they will keep coming back because you have an amazing product or service.
Just like all social media, Pinterest comes with unspoken rules.  We could sum it up with: don't be stupid.  If it does not reflect positively on your business, don't pin it.  If it causes fights, don't pin it.  If it bashes another company, don't pin it.  Use Pinterest to help your business, not bring down others.  If you act smart, you can use Pinterest to boost your business.  In the spirit of full disclosure, I have visited Pinterest, however I have never made an account.  That means there are a lot of ins and outs of the site that you can explore on your own.  For now, Twitter and Facebook meet my needs, but there may come a time when I would find Pinterest a fun outlet.
https://skypointwebdesignbillingsmontana.com/wp-content/uploads/2013/12/Making-Pinterest-work-for-your-business-SkyPoint-Blog.jpeg
650
867
Skypoint
https://skypointwebdesignbillingsmontana.com/wp-content/uploads/2019/04/SkyPointStudiosLogo.png
Skypoint
2013-12-03 10:12:19
2016-03-13 16:18:53
How to Use Pinterest to Boost Your Business