Fix contact form is a request that happens a lot with web design, especially the platform WordPress. The the way to fix contact form is through a series of troubleshooting steps. I'm going to cover those in this blog post today.
First of all, we want to identify the form that is having the issue. Go to the web page and inspect the form. Next, we want to log into the WordPress site on another tab. Now go back to the tab that has the form on it and refresh. This will log into that specific page.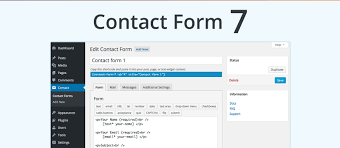 Inside the page with the form, we want to inspect and find out what plugin is being used for the form. This could be Contact Form 7, or a lot of other similar plugins. Once we find out which plugin is creating the form, we will go to this plugin and check to see what email it is being sent to.
Locate the email send settings inside of the plugin form. Note what email is being sent to from the form. Is the email a business email? Meaning that it has the extension of a domain on the end of it) If so, spam filters may be blocking the email from recieving tje form message.
If this is the case, what we want to do is use a basic Gmail account to do the testing. Enter a Gmail account you have access too in the form settings and then fill out the form and send it to yourself.
Check the spam folder to see if it arrived. If it did arrive in spam we need to check the not spam message above it to make it go to the main inbox. If it doesn't arrive, that means something is wrong with the plugin and it needs to be replaced. Replace the form with a new plugin form and test again.
If it did arrive in spam, and we have selected it to be not spam so it's in main inbox now we know we have isolated the issue so that it is just the business email account that has spam filters on it. We want to inform the receiver of the email that their spam filters are too strong and that they may want to use a Gmail account that is forwarded through to their business account for messages from their website.
Messages from a website are treated as less secure than messages from an email server. This may cause issues receiving messages, so it's important to find out whether it is an issue at the plugin level or an issue at the email level. Both of those require separate testing to figure out what level has the issue.
Do you have questions about how to fix contact form? Trying to troubleshoot your own contact form? Hit me up in the comments and I'll be glad to assist you!
Read next: Easy Way to Create Contact Form WordPress
https://skypointwebdesignbillingsmontana.com/wp-content/uploads/2020/10/How-to-fix-contact-form.jpg
1294
1280
Jophiel Silvestrone
https://skypointwebdesignbillingsmontana.com/wp-content/uploads/2019/04/SkyPointStudiosLogo.png
Jophiel Silvestrone
2020-10-20 15:27:59
2020-10-28 11:07:12
Fix Contact Form