Have you wanted to charge a credit card by taking down information over the phone and processing it through PayPal?
You could purchase the $30 package PayPal Payments Pro which lets you take credit cards over the phone, or try this nifty little work around PayPal secret.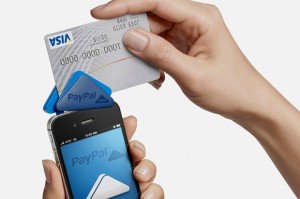 If you call support and ask how to take a card without a PayPal Here device they will most likely only steer you towards the above mentioned plan. That's understandable, as they make commissions off of this product. It is a good product and offers some great features, the point of this article is not to steer you away from choosing PayPal Payments Pro, but rather to offer an alternative to those who do not want to spend that or commit to such a plan.
So, with that said, here is how to get around the PayPal secret "paywall"…
First go to the app market on your smartphone and download the PayPal Here app. (make sure to get the Here version as PayPal has another app "PayPal" that only works for purchasing)
Next open the app and go through the setup prompts.
Type in the amount of the transaction and click the charge button at the top
Finally choose "Card Number" from the payment options menu and type in the customers card number information
That's it! PayPal charges 3.5% percent on all transactions ran this way. Note that the transfer of funds may take 2-3 days this way to move into availability or a bank account, however, it seems that with a PayPal debit card, the funds are available almost immediately.
https://skypointwebdesignbillingsmontana.com/wp-content/uploads/2014/06/Get-paid-with-this-PayPal-trick-SkyPoint-Blog.jpeg
573
890
Jophiel Silvestrone
https://skypointwebdesignbillingsmontana.com/wp-content/uploads/2019/04/SkyPointStudiosLogo.png
Jophiel Silvestrone
2014-06-17 21:45:10
2016-03-13 17:01:58
PayPal Secret Helps Get You Paid