Website design has many different attributes, and when you add it all up, things can get pretty pricey! Thankfully, there are some free tools out there to help us along, and save money!! Here's three free tools that I use- and love!
To start, SMThemes.com allows you to download free templates for your website! To make it even better, all of the information and photos in their displays transfer over when you download it, so you can see what the website can really look like. Then you can decide for yourself how you want to personalize the look and layout! SMThemes.com is a great, free resource to help get your organized and started from the very beginning!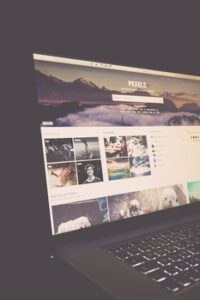 Once the theme is set, you're ready to add your own pictures! But unless your website is for a photographer, it can be difficult to find pictures that aren't owned by someone else. However, pexels.com has a great selection of high-quality photos that aren't owned by anyone! So if your website is about exploring nature, just search nature pictures and you'll find great outdoor shots! Or if it's for a realtor, you can find pictures of some beautiful houses! You can also make sure you choose a photo that is the size you need! These pictures are the perfect, free addition to help your website really stand out.

The third amazing website for designing beautiful, professional websites, is a hex code color picker. My go-to website for this is W3schools.com. This website has an interactive colored hexagon, where you can click on a specific color and shade, and it will tell you the hex code for it! It shows examples of what different colors, sizes, and thicknesses of text looks like. W3school.com also allows you to enter in HTML or rgb colors, and then converts it to hex code for you! This is an extremely simple way to update your CSS and start getting used to all of the color possibilities that hex code has to offer!
So those are my top three FREE tools for designing great websites- at a great price! I hope this helps! Leave us a comment and let us know what your favorite free website designing resources are!
https://skypointwebdesignbillingsmontana.com/wp-content/uploads/2016/09/person-apple-laptop-notebook-medium.jpg
350
525
Skypoint
https://skypointwebdesignbillingsmontana.com/wp-content/uploads/2019/04/SkyPointStudiosLogo.png
Skypoint
2016-09-14 19:09:28
2016-09-15 12:30:10
Three Free Tools for Web Design to Download Now