Image name SEO refers to how a picture is labeled before it is uploaded to the web and how Google search engines will pick it up to display it. The more descriptive the label on the image prior to uploading to the web, the better it will do in Google search in the sense that people can find it easier.
If there's no descriptive labeling, and the image name is just a series of numbers and letters, then it makes it very hard for Google to discern what the image is about and index it properly. This becomes a problem for websites when they don't have proper labeling on their images.
It's a matter of time, and it comes down to whether a developer feels like putting the time and effort into labeling every single image instead of just uploading them as they get them.
So how do we check to see whether we have proper image name SEO?
There's actually a test that can be done that is rather easy to do. What you want to do is go to your website and right click on any image that you find. On the drop-down menu that appears is an option 'Save image as' click this and a window will pop up with the file name.
This file name is the name of the image that was labeled prior to it being uploaded to the web. If it's just a string of numbers and letters then the person who uploaded it to the web did not do any image name SEO.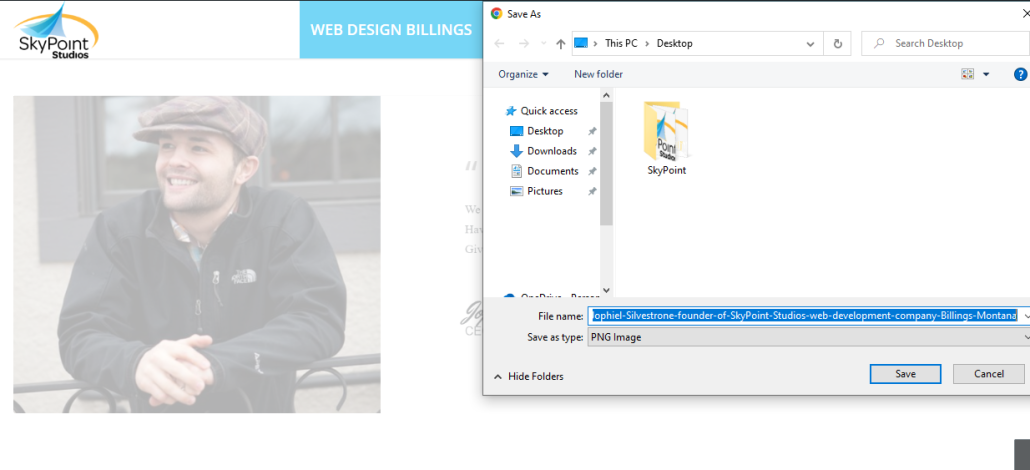 So how do we fix this?
You can download the images from your website onto your desktop and re-label them properly. So if it's a picture of a bird in a park, name the type of bird: "it's a blue bird sitting on a tree branch in Northridge Park," for example.
Be descriptive of what the image shows and where it is located in the city. Once completed, the image can be re-uploaded to the website in the location it was priorly in. This type of information will do wonders for your SEO and your ranking on Google. It allows Google to place the image in image search as well as gives you higher credibility when Google spiders are crawling your website. This will translate into more business for your company!
The other reason why it is important to label images properly is that for people who are visually impaired, they will use readers to view the web. Those readers for visually impaired will read the image file name out loud and if it's just the letters and numbers, the user won't know what the images are. This is poor web design and something that we can all fix!
Do you have a question about how to create image name SEO on your website? I'll be glad to help you with this! Our website is full of images that are labeled properly! You can do the test on this website and see how we label images properly. Get a hold of me on my contact page and I'd be glad to help you with your website SEO.