Moonshot is a term in software development referring to a project that is massive and life-changing and typically worth several millions if not billions of dollars.
A good example of a moonshot project is Uber or Airbnb or a bit older Facebook or Instagram, for example. The moonshot software project is incredibly huge and complex and requires founders that have incredibly great skills and backgrounds as well as are in the right place at the right time.
As a word of caution, if you do not have prior business experience, especially with start ups, it is unadvised to try and do a moonshot like build the next Uber. The chance of failure with startups that are aiming for a market the size of Uber are extremely high.
There is a term in the industry called "hopium" which is basically the elated, over-exaggerated excitement about trying to create the next Uber and thinking that you and your cofounders will soon be on a yacht sipping champagne and laughing about your billions of dollars in the bank .
It's very unrealistic and it ends up sad for many people as they waste time and money and resources on these projects which end up puttering out and never going anywhere. So let this post be a warning of caution but not a bummer to people who are trying to create their own idea.
I think entrepreneurship and creating ideas that don't exist is a great idea, look at my company SkyPoint Studios I started this from the ground up and it is now one of the top software development website design agencies in its market!
Had I been worried about failing in the beginning, I would've never made it this far. However, SkyPoint Studios is a reasonable company serving customers in a reasonable market.
In order to create the next Uber you really truly have to be somewhat insane and like I said all the right dominoes have to fall in place for you to be able to make it such as investors, programmers, designers, engineers, customers, markets, etc.
It's not that it's impossible to create a unicorn the size of an Airbnb or a Tesla, however the odds may be actually better to just go buy a lottery ticket. And I think it's that context that is important to understand and to take into reasonability when considering creating a project as large as Tesla or SpaceX, for example.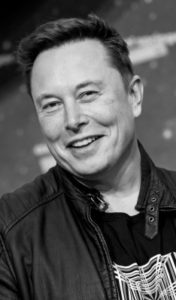 The chances of becoming the next Elon Musk are very slim, not completely impossible, but very very slim. And being around someone who has tried to become Elon Musk and failed can be disheartening.
However, one thing that does come out of these failures is great growth and it is actually very helpful to creating more reasonable businesses in the future. So I wouldn't necessarily advise against trying to do a moonshot, especially if you're very young in your 20s or not that averse to risk, as it's a great way to learn.
I just want to offer some caution and some understanding to what it takes. Here at SkyPoint Studios we do not get involved with moonshot companies. We do not build their software because the amount of capital required to create a software product and to maintain it is unreasonable typically for what founders usually have available and their expectations for what they're trying to get as a project are not reasonable for what can actually be accomplished.
The next Uber will literally need an army of software developers to create and maintain the systems required to keep that up and running.
What are your thoughts on moonshots? Have you ever been part of a startup company trying to create the next unicorn? I'd love to hear about your stories! Drop it in the comments below and we can share the war stories!
Read next: Linktree Business Setup